June 2nd 2023 - Champion Certificate Jamie
Now it's official
Polish Champion, Swiss JCh Labranzh Shot Capitan Jack Sparrow
(Multi GCh Bloomwood Royal Major Globtrotter & Ch Berry Loves Happy Kiss)
Thank you to everyone involved - for making this possible, for believing in us, for having such a positive opinion and assessment of Jamie. We appreciate that very much.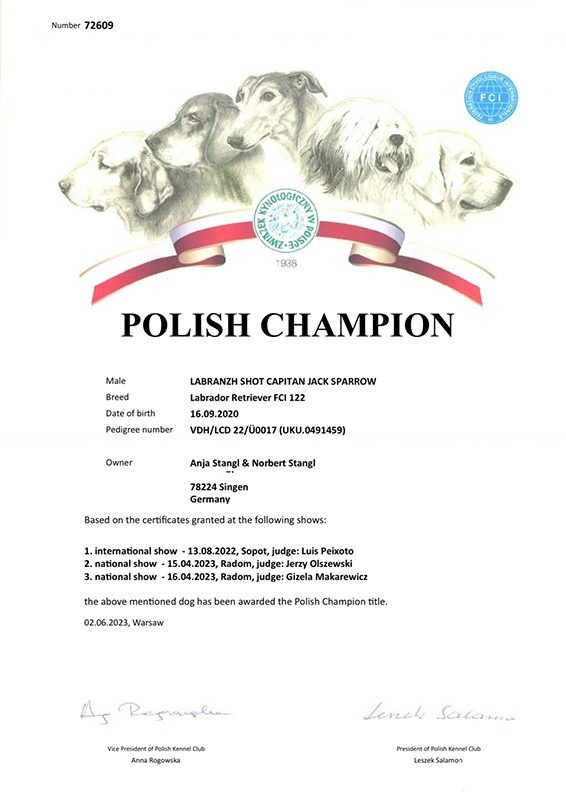 May 21st 2023 - Post Show (show training) DRC Rottweil
Karus was allowed into the ring for the second time, this time with a real routine. After a short introduction for all participants by judge Gisela Werner, it was immediately time for judging.
Karo showed his best side with his cheerful nature and his eager way to learn new things and stood completely free, because he will do anything for a treat :) For his short 5 months he did a great job and was allowed to leave the ring with a first placed red ribbon and lots of goodies.
A big thank you to all the helpers and organisers who made this post show possible.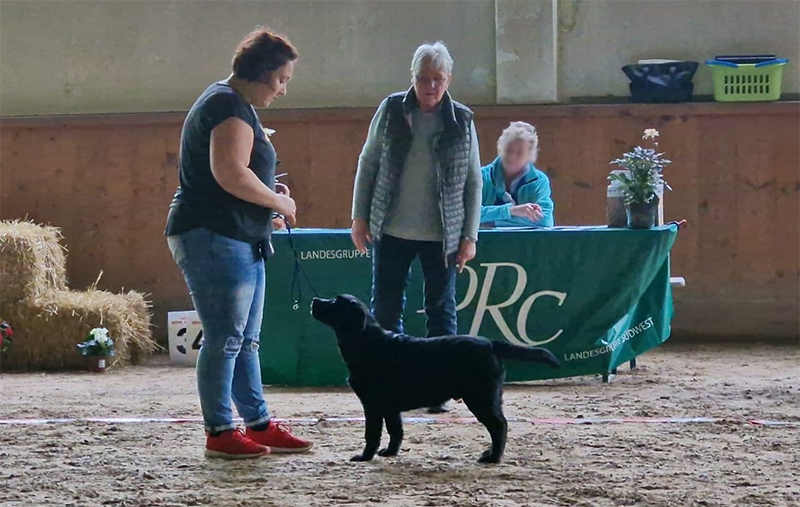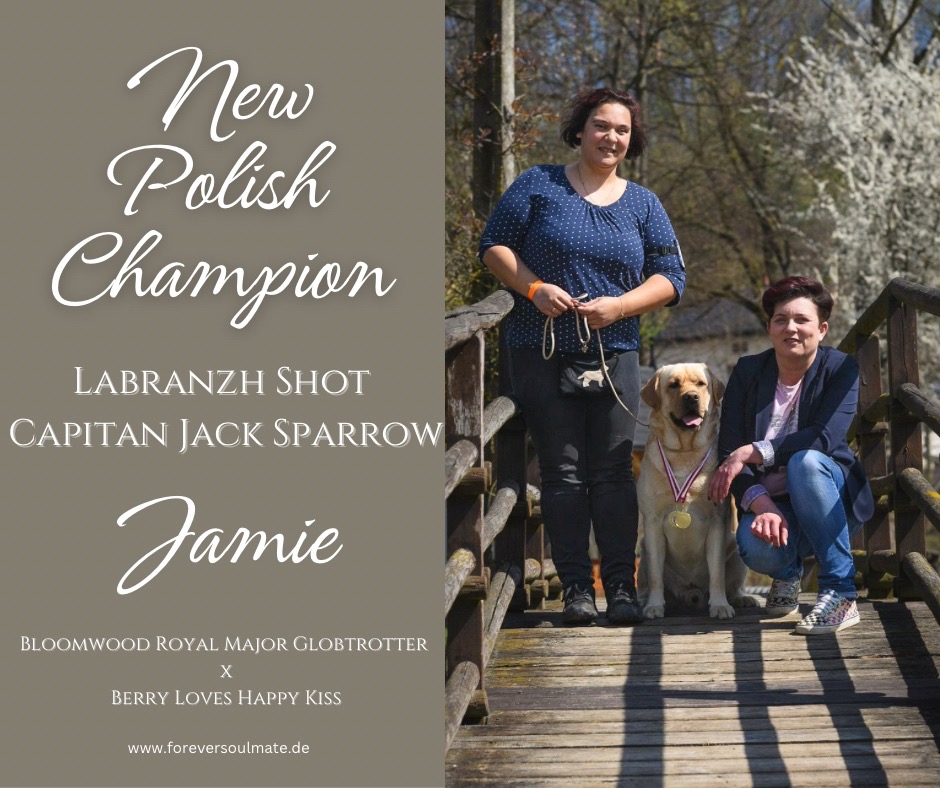 We are unbelievably happy, madly pleased and proud! Jamie got his last two CWC (CAC) in Poland at the weekend and is therefore the new Polish Champion!
Here on the photo from Sunday (right after the show in Baltow) Ewa Kotowska, Kennel Bloomwood Labradors FCI breeder and owner of Jamie's dad "Radek" BISS Multi Champion Bloomwood Royal Major Globtrotter. Thanks to the judges Luis Peixoto (P), Jerzy Olszewski (PL) and Gizela Makarewicz (PL)! Never stop dreaming, go for it
From
the bottom of our hearts we thank Jamie's breeder Anzhelika Keropyan (Kennel Labranzh Shot FCI, Ukraine) for this amazing guy who we love so much!!! Thank you to all those who are behind Jamie and behind us
You know how much this means especially to me! Picture by Mirosława Malkus.
15.-16.04.2023
46. & 47. National Dog Show (CAC) Bałtów (O/Radom), Poland
Saturday 15.04.2023
Excellent 1st place in open class, CWC, Best Dog under the judge Jerzy Olszewski (PL).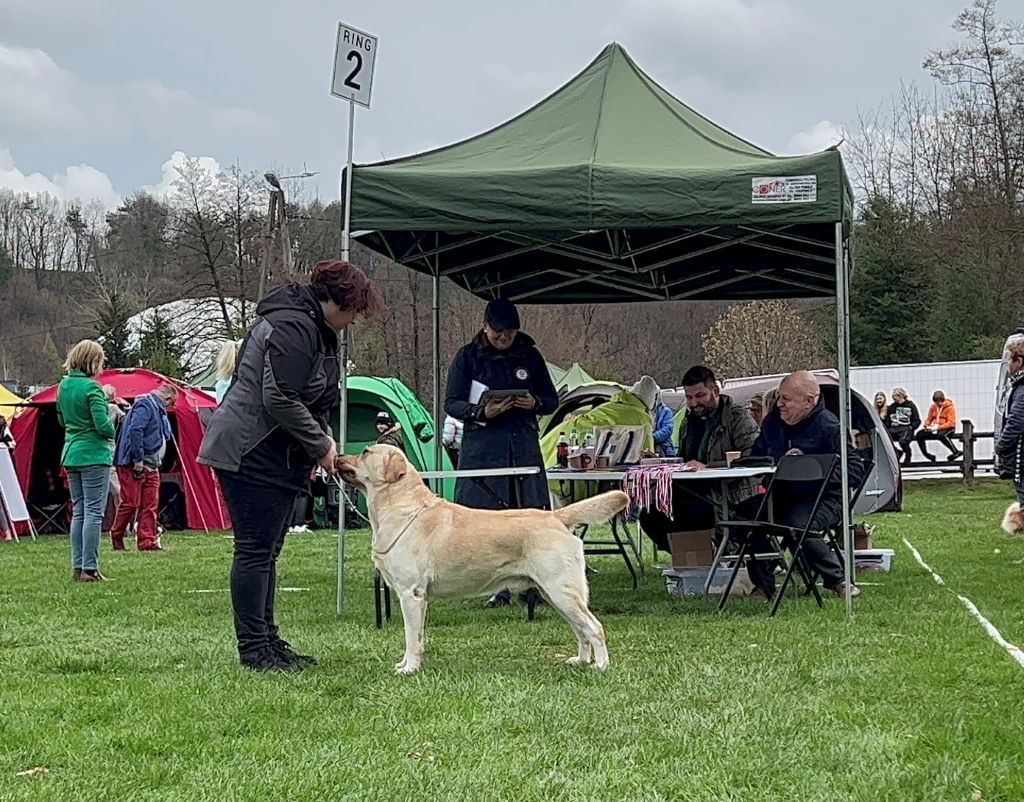 Sunday 16.04.2023
Excellent 1st place in open class, CWC, Best Dog & BOS! under the judge Gizela Makarewicz (PL).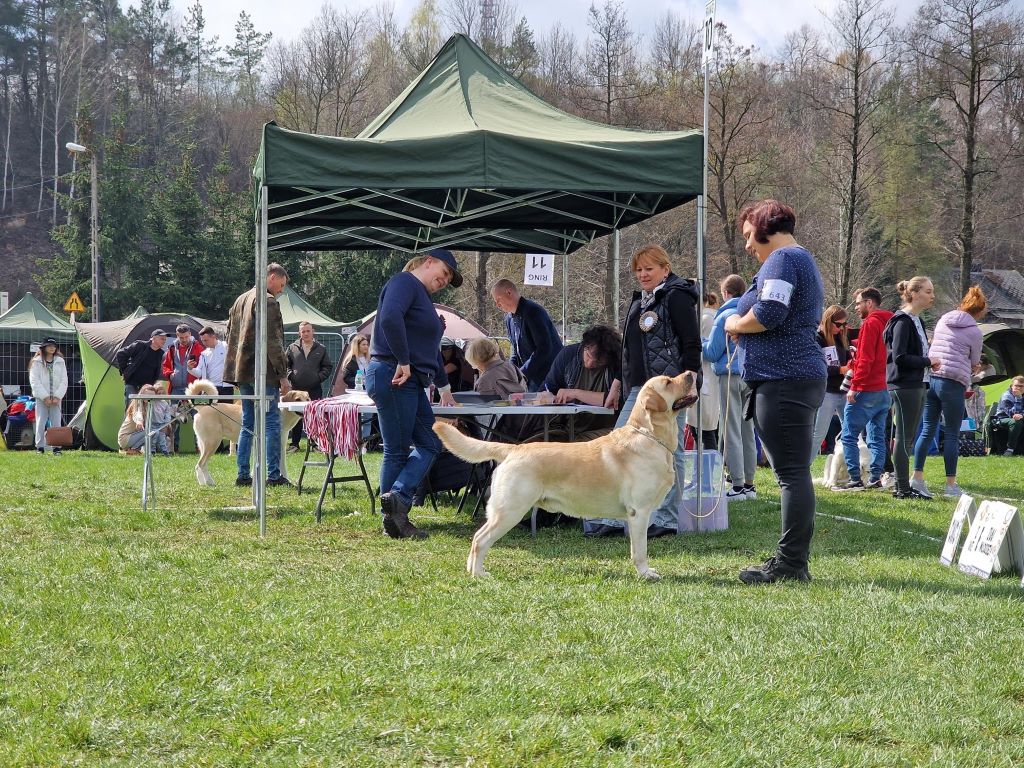 21.11.2022
Today we received the breeding confirmation for Jamie as stud dog in the Labrador Club Deutschland e.V.! We are very happy that Jamie meets all the requirements and are looking forward to the future.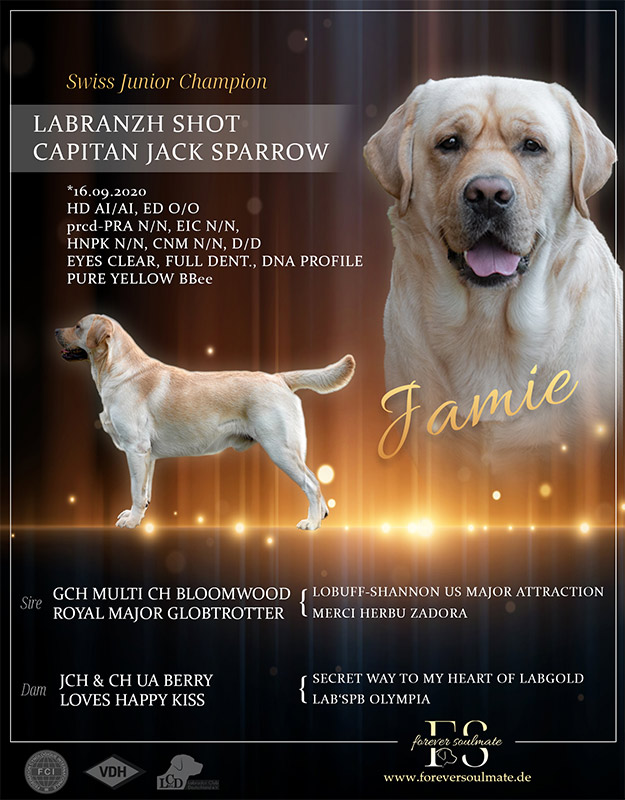 13.11.2022 CACIB Karlsruhe LCD
Under the British judge Sharon Lambert Jamie also receives an excellent and is placed 3rd out of 7 in the open class.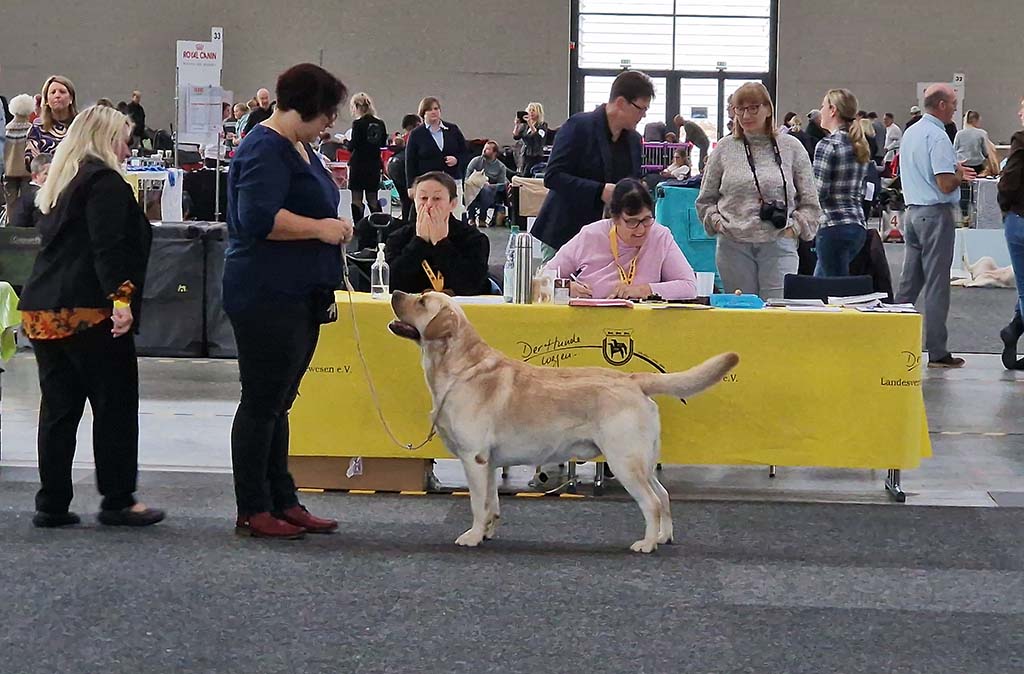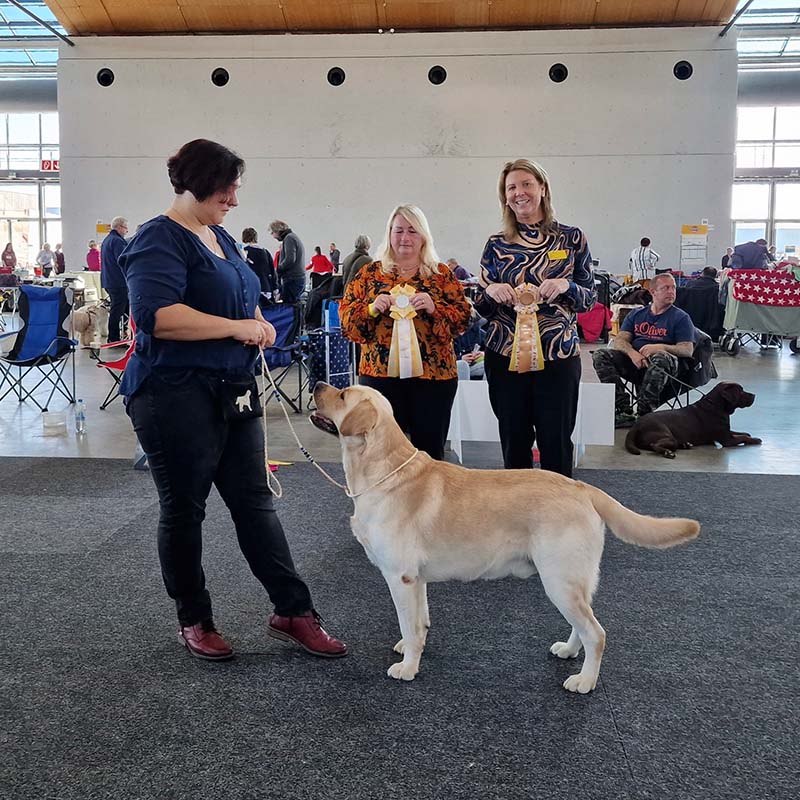 12.11.2022 CACIB Karlsruhe LCD
Under judge Ginette Oulton (GB) Jamie receives an Excellent and is placed 3rd out of 6 starters in the open class.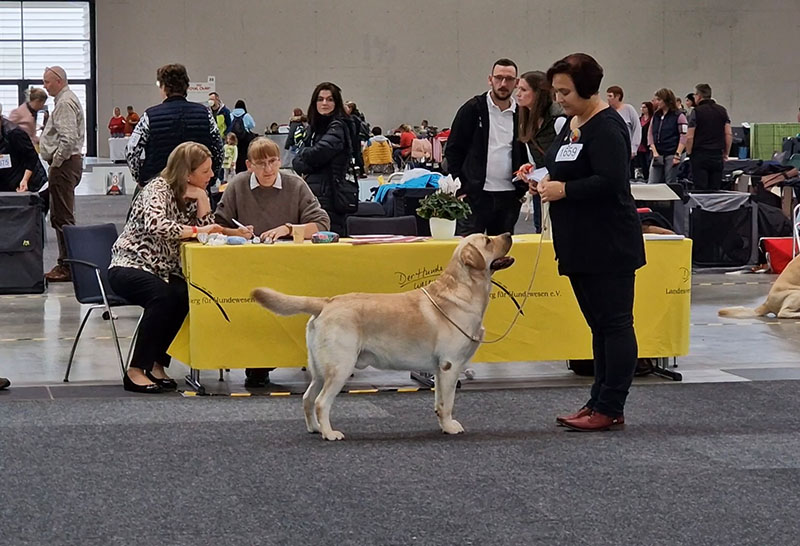 10.11.2022
Long awaited and now finally here: New breeder seminar exam passed! :) The pedigree is now on its way with all documents to the office for breeding approval.

05.11.2022
Participation in the LCD stud dog webinar with lawyer Andreas Ackenheil.

23.10.2022
Now the 2-day new breeder seminar with examination (and really top speakers on various topics on the subject of breeding) of the LCD in Wetzlar is also done. Now nothing stands in the way of Jamie's breeding approval.